Neapolitan style pizzas- simple good quality ingredients,cooked in our wood-fired oven
Hillbilly Pizza
We make Neapolitan style pizzas – our bases (including GF) and Nap sauce are all shed made and cooked in our wood-fired oven.
We use the highest grade  flour, fior de latte mozzarella, salamis and tomatoes sourced from an Italian Providore. 
We have a small menu with specialty pizzas added from time to time.
For dessert try our signature  Apple calzone with whipped cream freshly baked to order.
Take away pizzas within our opening times
Please note we do not allow outside food, drinks or picnics to be brought in.
Events
WREATH MAKING WORKSHOPS  $90 (valued at $115)
Classes: Tues, Wed, Thurs on Weeks beginning 30/11; 7/12; 14/12
Either: 10.30-12pm or 12.30 – 2pm
 Included– workshop, wreath, glass of cider and pizza (see poster)
Classes require minimum of 4 and maximum of 8 people so we may need to re-schedule you if numbers aren't reached.
Choice of Cider from barrel does not include Vintage range
Pizza extras will need to be paid for eg. Gluten Free
Flower selection  subject to seasonal availability
 To Book:  pay a $20 / head deposit via our website shop page. Also email [email protected] with date and time, names of participants. Remainder of payment can be made on the day.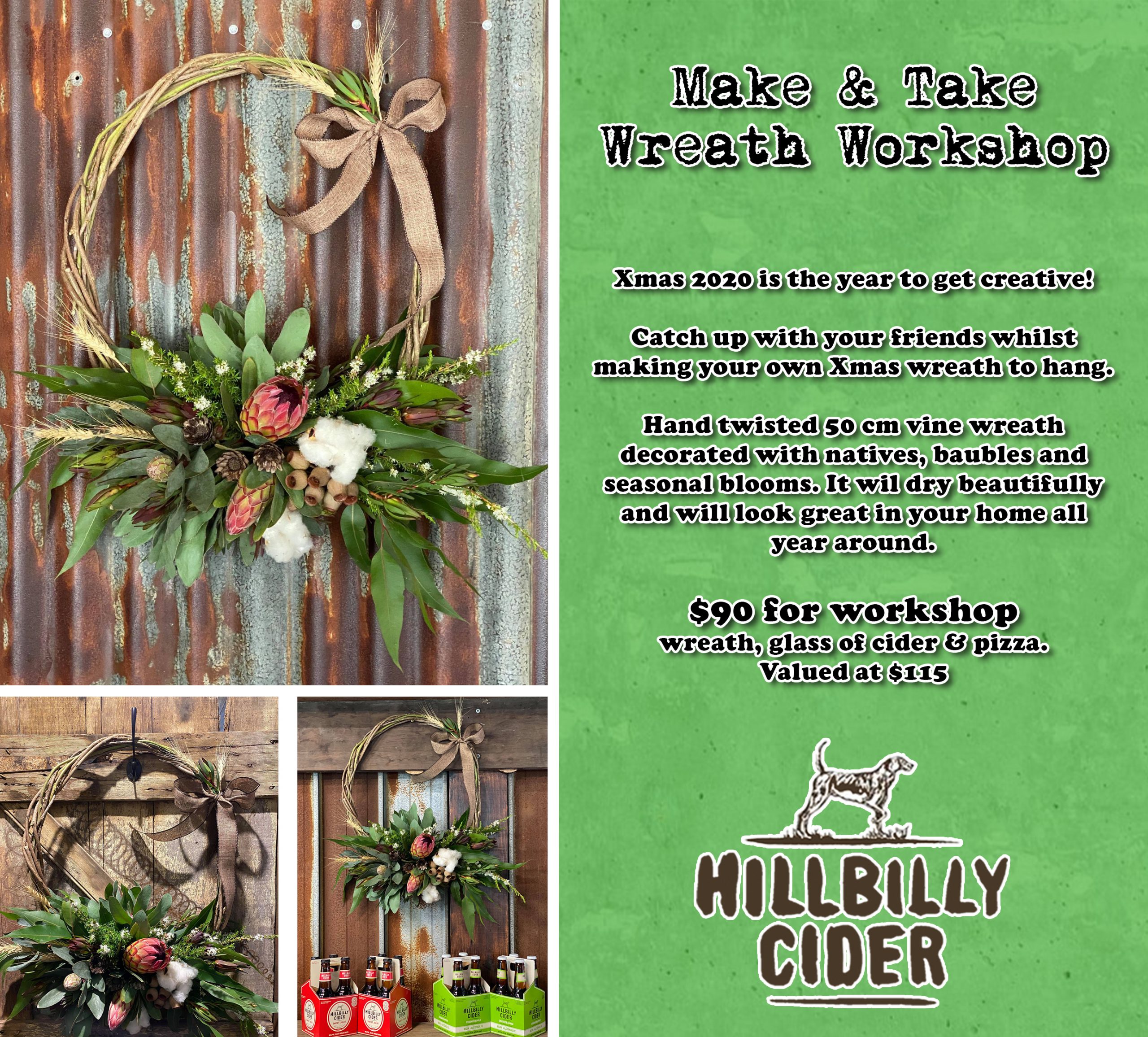 I
Garlic Pizza
Garlic and herb oil with Grana Padano Parmesan
Margherita
Neapolitan tomato sauce, Fior di latte, Grana Padano & fresh basil
Ham and Pineapple
Neapolitan tomato sauce, Fior di latte, double smoked leg ham with pineapple
Pepperoni
Neapolitan tomato sauce, Fior di latte and beef pepperoni
Vegan
Neapolitan tomato sauce, Vegan Mozzarella, garlic oil & fresh basil
Apple Calzone
Sweet Julie cider caramel sauce, cinnamon stewed apples. Served with whipped cream