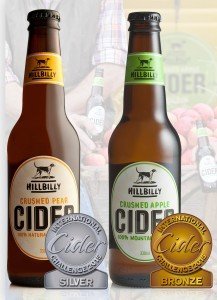 Hillbilly, was the highest scoring Australian cider at the 2015 International Cider Challenge held in England.
Results were announced on Friday 12th June.  The Hillbilly pear was awarded a silver while Hillbilly apple secured a bronze.
This year's competition attracted a record number of entries from traditional cider nations such as the UK, Ireland and France but also from further afield Australia, Canada, Croatia, Japan, Poland, Spain, South Africa, New Zealand and the USA.
The elite panel of judges chaired by cider expert Pete Brown also featured supermarket buyers, independent retailers, cider aficionados, journalists and publicans.
The Hillbilly brand, a boutique cider rapidly growing in popularity, is the creation of Bilpin residents, cider makers and husband and wife duo Shane and Tessa McLaughlin.
Shane was pleased with the international win, saying it was great news and further ratification following their recent medals in the Australian Cider Awards in October last year, where the pear was awarded "Best in Class" and the apple, a silver medal.
"We are excited that Hillbilly has shown up so well among the best ciders in the world," he said.
Judge, Pete Brown praised the consistent quality of the entries in the competition.
"I think we were quite tough as a judging panel," he said. "But every product we awarded a gold or silver medal is a great example of what cider or perry can be, worth holding up and showing to anyone who thinks that cider can only be murky, pungent scrumpy or an exceedingly sweet fruit cocktail."
Shane's commitment to making cider in the most natural way – just fruit with no artificial flavours or added concentrate – has gained Hillbilly a loyal fan base not only across its home turf of the Hawkesbury and Blue Mountains – but further afield to Sydney, Melbourne and Queensland.
"The way we make cider – it's all about the apples – and the quality of the local fruit in Bilpin makes us look good," he said.